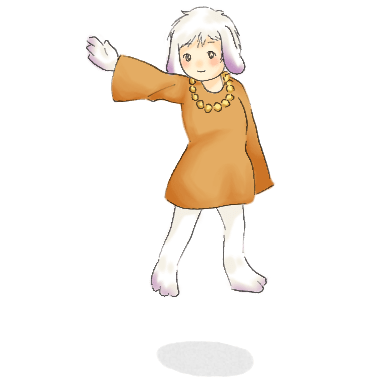 Racial Traits
Race Point Cost
Type
Humanoid (lambkin)
0
Size
Small
0
Base Speed
Slow
-1
Ability Score Modifiers
Specialized (+2 Int, +2 Wis, –2 Con)
1
Languages
Standard
0
Defense
Spell Resistance, Lesser
2
Defense
Stubborn
2
Feat and Skill
Skill bonus x2 (knowledge (arcana) and spellcraft)
4
Magical
Constant Spell-Like Ability
2
Magical
Magic Aptitude / Deep Magic
3
Magical
Spell Focus
1
Senses
Low-Light Vision
1
Total
15
A race of floating lamb-like humanoids who specializes in magery.
Standard Racial Traits
Ability Score Racial Traits: Lambkins are both intelligent and wise, but also a bit weak. They gain +2 Intelligence, +2 Wisdom, and –2 Constitution.
Size: Lambkins are Small creatures and thus gain a +1 size bonus to their AC, a +1 size bonus on attack rolls, a –1 penalty to their Combat Maneuver Bonus and Combat Maneuver Defense, and a +4 size bonus on Stealth checks.
Type: Lambkins are humanoids with the lambkin subtype.
Base Speed: (Slow Speed) Lambkins have a base speed of 20 feet on land and are always considered to be floating 5 feet off the ground.
Languages: Lambkins begin play speaking Common and Lambkin. Lambkins with high Intelligence scores can choose from the following: Galkan, Giant, Goblin, Lalafellan, and Orc. See the Linguistics skill page for more information about these languages.
Defense Racial Traits
Magic Resistant: Lambkins are particularly resistant to magic. They gain spell resistance equal to 6 + their character level. This resistance can be lowered for 1 round as a standard action.
Stubborn: Lambkins gain a +2 racial bonus on Will saving throws to resist spells and spell-like abilities of the illusion school. In addition, if a lambkin fails such a save, it receives another save 1 round later to prematurely end the effect (assuming the spell or spell-like ability has a duration greater than 1 round). This second save is made at the same DC as the first. If the lambkin has a similar ability from another source, it can only use one of these abilities per round, but can try the other on the second round if the first reroll ability fails.
Feat and Skill Racial Traits
Magic Expert: Lambkins value knowledge and learning about the field of magic. They gain a +2 racial bonus on Knowledge (Arcana) and Spellcraft checks.
Magical Racial Traits
Auto-Float: Lambkins are always considered to have the Float status. Without it, they can only crawl 5 feet per movement action. Lambkins that are subjected to a dispel effect (the float effect has a caster level equal to the lambkin's character level) lose this float effect for 1 round. Lambkins in anti-magic areas automatically lose the float status until they leave the area.
Magic Aptitude: Lambkins gain a +2 racial bonus on caster level checks made to overcome spell resistance and a +2 racial bonus on dispel checks.
Spell Focus: Lambkins gain a +2 racial bonus on concentration checks made to cast spells defensively.
Senses Racial Traits
Low-Light Vision: Lambkins can see twice as far as humes in conditions of dim light.
Alternate Racial Traits
The following alternate racial traits may be selected in place of one or more of the standard racial traits above. Consult your GM before selecting any of these new options.
Academician: Some lambkins are more academically inclined than their kin. Lambkins with this racial trait gain a +2 bonus on any single Knowledge skill. This racial trait replaces magic expert.
Greater Magic Resistant: Lambkins with this racial trait are much more resistant to magic. They gain a spell resistance equal to 11 + character level. This racial trait replaces magic resistant and magic aptitude.
Inquisitive: Lambkins have a knack for being in places they shouldn't be. Lambkins with this trait gain a +2 racial bonus on Disable Device and Escape Artist checks. This racial trait replaces magic expert.
Magical Linguist: Lambkins study languages in both their mundane and supernatural manifestations. Lambkins with this racial trait add +1 to the DC of spells they cast with the language-dependent descriptor or those that create glyphs, symbols, or other magical writings. They gain a +2 racial bonus on saving throws against such spells. Lambkins with Charisma scores of 11 or higher also gain the following spell-like abilities: 1/day—comprehend languages, message, read magic. The caster level for these effects is equal to the lambkin's level. This racial trait replaces magic aptitude.
Polyglot: Some lambkins, especially those who spend a lot of time traveling, develop a talent for learning new languages. These lambkins gain a +2 racial bonus on Linguistics checks, and it is always a class skill for them. Lambkins with this racial trait also begin play with the ability to speak Common, Lambkin, and any one other language of their choice in addition to bonus languages due to high Intelligence. They still gain the normal list of lambkin bonus languages. This racial trait replaces magic expert and alters the lambkin language racial trait.
Practicality: Lambkins value hard work and common sense. Lambkins with this racial trait gain a +2 bonus on any one Craft or Profession skill, as well as on Sense Motive checks and saves against illusions. This racial trait replaces magic expert and stubborn.
Racial Archetypes

The following racial archetypes are available to lambkins:
Favored Class Options
The following favored class options are available to all characters of this race who have the listed favored class, and unless otherwise stated, the bonus applies each time you select the favored class reward.